Benefits Of Seeing A Chiropractor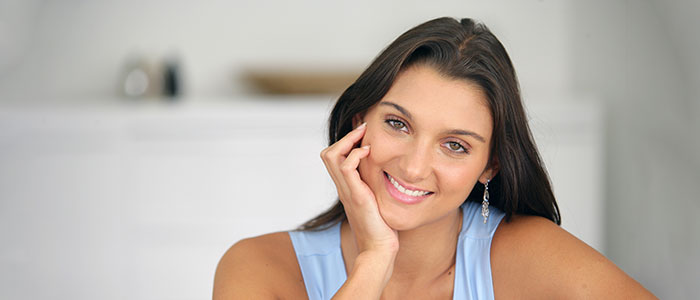 An experienced chiropractor at one of our convenient locations in Billings - Heights MT, Billings - West End MT, Bozeman MT, and Coeur d'Alene ID can improve your quality of life.
At Walk In Chiropractic, we are proud to provide professional chiropractic services that can help improve your quality of life. Our local chiropractors approach every patient with the utmost attention and care and rely on their extensive training and experience to figure out the best course of action for your needs. There are many reasons that people seek out chiropractic care, and our team is dedicated to providing you with both short-term relief and long-term support as you pursue a happier and healthier life. Read on to learn more about how our chiropractic services can help, stop by one of our offices for a quick adjustment, or contact us today!
---
OUR CHIROPRACTORS CAN HELP WITH:
Pain Relief
Improving Range of Motion
Reducing Stress
Chronic Injuries
Increasing Strength and Flexibility
Improving Athletic Performance
And More!
---
TAKE YOUR FIRST STEP TODAY
Step 1: Walk right in!
Step 2: Get a quality adjustment.
Step 3: Return as needed, or sign up for an affordable membership
Step 4: Enjoy a healthier and happier life!
---
YOU SHOULD REALLY SEE A CHIROPRACTOR...
If you're like most people, you've probably heard those six words before. It's no secret:, quality chiropractic care can make a big impact on your health and wellness; but when you're looking for relief, you can't afford to wait weeks for an appointment. That's where Walk In Chiropractic comes in. Our doors are always open for walk in appointments during business hours. In fact, we encourage them! On top of that, we offer competitive pricing on individual adjustments and affordable memberships for those who want to make chiropractic care a regular part of their wellness routine.
Read on to learn more about how our chiropractors can help you, stop by one of our locations, or get in touch with us to schedule an appointment!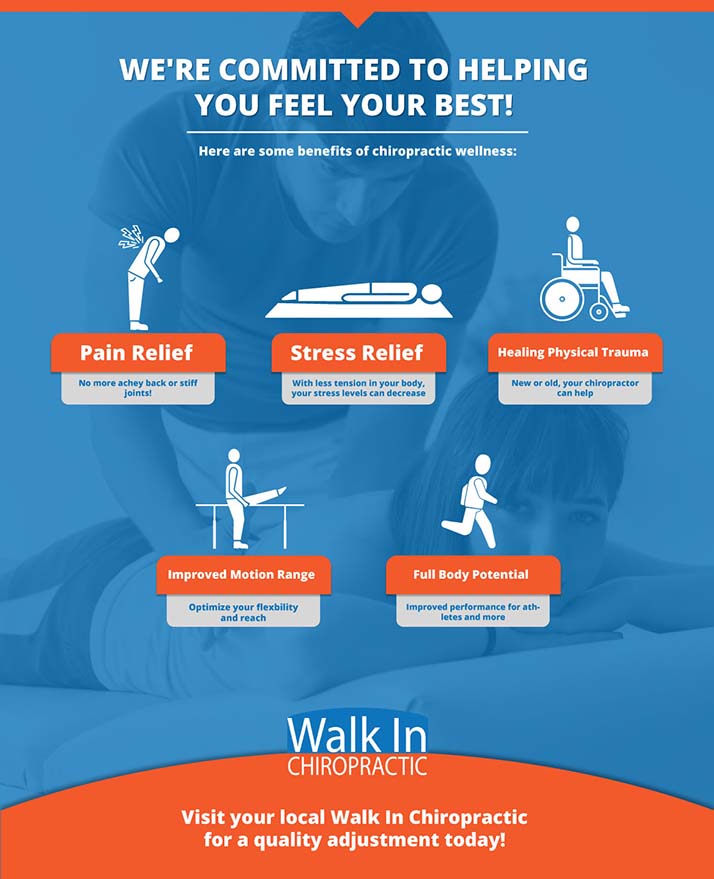 ---
PAIN RELIEF
Chiropractors can quickly identify the mechanical source of pain and discomfort. No matter the cause of your pain, they can use a variety of adjustments to provide near-immediate relief for pain and discomfort.
Patients often leave appointments feeling noticeably better. Stop by today!
---
IMPROVE RANGE OF MOTION
Chiropractors can restore movement to areas that seem to have "locked up," and maybe put stress on nerves. Adjustments can help ease the surrounding muscle tension, which is necessary for restoring normal mobility.
An insufficient range of motion can be inconvenient, painful, and in some cases, dangerous. Our chiropractors can help.
---
STRESS REDUCTION
When your body lacks mobility and pain are limiting your activities, it can take a toll on your mind. Not being able to perform work duties creates work stress; being in pain can lead to trouble sleeping; and discomfort may interfere with normal, daily activities. With the restored functionality that our chiropractors can provide, adjustments can relieve unnecessary stress from the body and promote recovery. Schedule an appointment with our chiropractors today!
---
NEW OR OLD TRAUMA FROM INJURIES
Whether your pain is from an injury a few years back, or a recently developed discomfort, chiropractic care can provide quick and lasting relief. By increasing mobility and reducing muscle tension, blood flow is reintroduced, and the body is able to heal correctly.
If you've recently been injured, or you have suffered a chronic injury that is disrupting your life, stop by one of our chiropractic offices for an adjustment today!
---
REACH FULL POTENTIAL
Chiropractic care treats more than localized discomfort. By increasing mobility and normalizing alignment, chiropractic adjustments can increase the ability to move efficiently and maximize strength. Ready to see a chiropractor? Contact us today!